Cowell-Stevenson Reservations & Facility Resources
Greetings,
COVID-19 OPERATIONS
ALL Cowell-Stevenson venues/lounges/conference rooms have been closed until further notice; we are not taking reservations at this time. However, the Stevenson Event Center has been designated as a remote-learning site for students to engage in remote learning. To use the space, students must make a quick reservation via the online reservation form. Contact the CWST Reservations Coordinator for more details.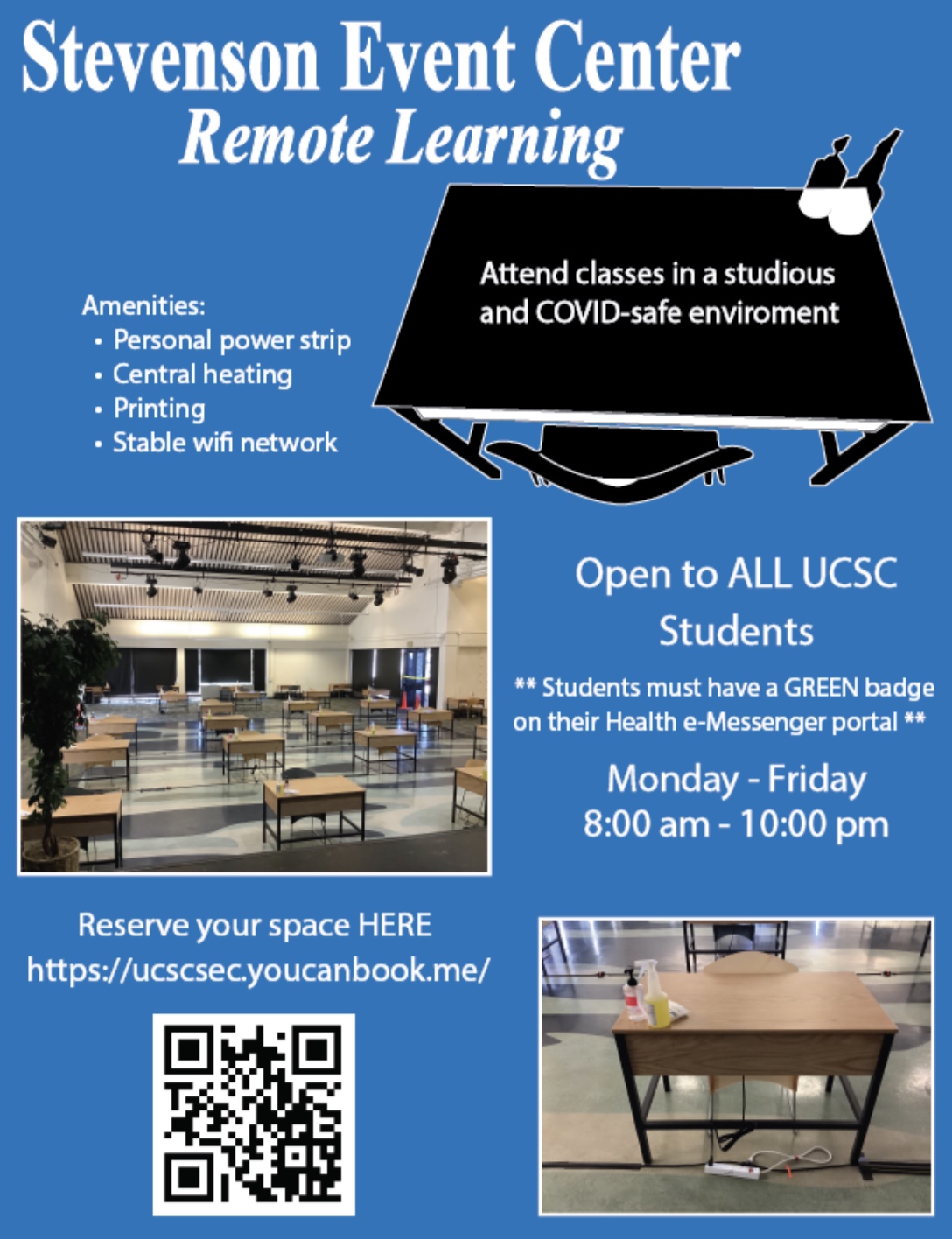 Open Mon - Fri, 8am - 10pm
COVID compliant facility, superior ventilation
Superior and stable Wifi connection
Central heating
Printing available
On site staff support
Clean and studios atmosphere
Link to flyer: Printable PDF flyer 
NON-Covid times below...
Here are various resources that may be helpful in seeking services for venue reservations, facilities equipment, event setup, event planning, etc.

Refer to the list of various resources below! 
Policies/Procedures for guarnateeing a successful event!
Is your event considered a Major Event ?

To reserve one of the below venues, submit a Room Reservation Request Form

Stevenson Silverman Conference Room
Stevenosn Senior Commons
Stevenson Fireside Lounge
Stevenson Event Center
Cowell Conference Rooom
Cowell Fireside Lounge
Founders Glen
Cowell Courtyard

Can't find a venue at Cowell-Stevenson? Check with our counterparts at the other colleges:
If you want to reserve a classroom at any college campus, visit the Registrar's 'Classroom Scheduling' page!
Feel free to use a post-event cleanup checklist like this one! for Stevenson Event Center
Are you tabling at Cowell-Stevenson? Be sure to read through our  Tabling Policy
Need a projector (or other AV tech) for a meeting or conference?
AV-tech Request Form ( Projector, a projector screen, HDMI or VGA cable, adapter or converter, a laptop for presenting or playing video, Roku TV, power cables, vacuum, etc.)
If you'd like to leave feedback about a reservation in one of our venues (meeting rooms, conference rooms, fireside lounges) please take less than 5 minutes and do so!
We want to about your experience! Client insight is critical to the development of our reservation and event-oversight processes. Follow the link below to complete our post-event client satisfaction survey :
For reservations that occur during the weekend (after business hours) in either of the below-listed conference rooms, you must check-out a facility key in order to access the venue: