Stevenson 
Commencement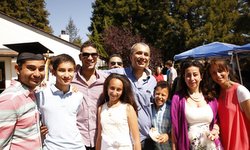 Stevenson Commencement is on June 18th at 1p.m.
Check for traffic info relating to Hwy 17. Expect delays.
Excessive heat warning in effect for Santa Cruz area this weekend.
Advising 
Bulletin
Need Advising? Drop in for quick questions or schedule and appt. for more detailed advising.
Stevenson 
Events
For events around Stevenson, please use the UCSC Colleges App, available on the Apple Appstore and on Google Play.
For information about Cultural Arts and Diversity, click here.