Stevenson Academic Advising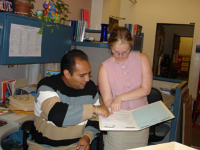 For key dates and deadlines, see the Academic and Administrative Calendar
The advising staff is here to assist you in your academic endeavors by providing you with guidance, support, and information.
We can advise you on many issues during your time at UCSC, from helping you select your first UCSC classes to making sure that you've fulfilled all the requirements for graduation.
Being a university student means entering into an active partnership with staff and faculty ensuring that you will maximize your use of the resources available to you at UCSC. In this partnership, we hope that you will take the responsibility and initiative to inform yourself of existing programs, deadlines, procedures, and opportunities.
Being a Stevensonian means that you will have opportunities to become involved in the many extra-curricular activities available to you. Stevenson students pride themselves on being the most politically active on campus. With this involvement comes the responsibility of making your academic goals a priority. Our expectation of you as a Stevenson student is that you will challenge yourself to maximize your intellectual potential.
We look forward to working with you in our combined efforts towards your academic success at UCSC!