Stevenson Fireside Lounge (177)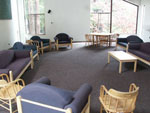 Go here >>> FOR UPDATES ON COVID-ERA SOCIAL GATHERING & MEETINGS
Capacity: 49
COVID Capacity: 'reduced to 50% of max'
Furnishings: TV, DVD player, sofas, tables, and chairs
Use: Reserved as a Student Lounge (casual gathering/piano practice). College student groups can schedule when available if the event is open to the entire Stevenson Student body. Other campus organizations may reserve the lounge for private gatherings or meetings by exception.
Fall '21 Update: The Fireside Lounge has been placed on special reserve for academics in order to host safe course sections, in light of limited COVID-compliant spaces. As such, the Fireside is greatly reduced in its availability for meetings/events/functions/etc. The Winter schedule has not yet been determined, however there is a possibility that this special reserve may continue in Winter.
Access: 7:00 a.m. – 12:00 a.m.
Fees apply to use this room
To request the Stevenson Fireside Lounge click here.  If you have any questions please contact our Reservation Coordinator cwst-reservationscoordinator@ucsc.edu.