Stevenson 
Facebook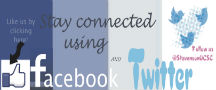 Stevenson Facebook

Stevenson now has an official Facebook Page and Twitter. Feel free to join and learn about programs, deadlines and news at the college Continue»
Stevenson 
Commencement
The Stevenson College Commencement Ceremony will be Sunday, June 15th at 1:00 p.m.
To register for the Commencement Ceremony please click here.  The Deadline to register is Friday, May 2nd at 5:00 p.m.
For information about how to apply to graduate please click here.
If you have any questions or would like to serve on the selection committee, email Christine Choi, College Programs Coordinator, at chhchoi@ucsc.edu.
Stevenson 
Events
3/03 - Stevenson Student Housing               Association
3/04 - Stevenson Community                       Outreach
3/04 - Multicultural Awareness Club
3/06 - Student Council
3/06 - Path To A Greener                            Stevenson
3/07 - Do-It-Yourself - Care &                    Crafts Night
For more details and other events please visit our Stevenson Events Calendar.
For information about Cultural Arts and Diversity, click here.
Ready Slug 
Safety Videos
Here are some videos to help you stay safe. 

By taking a few simple steps, to ensure that their laptop, phone and other personal belongings are safe and secure.

Staying healthy on a university campus can sometimes be a challenge. During flu season, it is especially important to take extra steps to prevent the spread of disease.