2015 
Family Day
Stevenson Careers in Law (2 units) and Stevenson Careers in Science and Technology (2 units); Stevenson is offering two new 2-unit courses that will connect you with alumni who can provide practical career advice.  CHECK IT OUT!

Stevenson 
Events
Nintendo College Night, January 21
Family Day, Feburary 7 (RSVP by January 25)
For more details and other events please visit our Stevenson Events Calendar.
For information about Cultural Arts and Diversity, click here.
Stevenson 
Commencement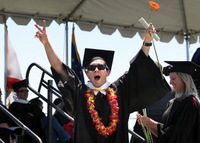 Stevenson's Commencement will be held Sunday June 14th, 2015 at 1:00pm. 
Registration is now open for Stevenson Commencement.