Advising 
Bulletin
Time to firm up and begin to finalize your schedule! Oct 12 is the last day to make enrollment changes!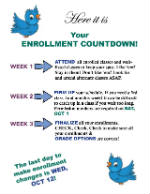 Stevenson 
Events
For events around Stevenson, please use the UCSC Colleges App, available on the Apple Appstore and on Google Play.
For information about Cultural Arts and Diversity, click here.