Stevenson 
Facebook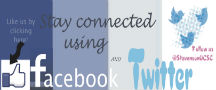 Stevenson Facebook

Stevenson now has an official Facebook Page and Twitter. Feel free to join and learn about programs, deadlines and news at the college Continue»
Welcome 2014-2015 
new students
• Submit your official transcripts to the UCSC Admissions Office by the deadline.
• Attend Summer Orientation.
• If you are unable to attend summer orientation, you may begin to enroll on August 4.
For help with everything you need to know about enrolling for fall, see the New Student Information.
Have a Wonderful Summer! See you during orientation and/or September.
Stevenson 
Events
6/12 - Commencement Rehearsal 
6/13 - Move Out @ Noon
6/15 - Commencement Ceremony

For more details and other events please visit our Stevenson Events Calendar.
For information about Cultural Arts and Diversity, click here.
2014 Commencement 
Speeches
Congratulations 2013-14 graduates!
The 2013-14 Stevenson College Commencement Ceremony was held on Sunday, June 15, 2014, at 1:00 p.m. on the East Field.
The speeches were excellent, and our speakers kindly agreed to make them available to you.
You can view photos of the afternoon by visiting our facebook page.