Spring 
2015 Course
Stevenson Careers in Law (2 units) and Stevenson Careers in Science and Technology (2 units); Stevenson is offering two new 2-unit courses that will connect you with alumni who can provide practical career advice.  CHECK IT OUT!

UCSC Parent 
Facebook Page

To provide a space for parents to stay connected with each other and the university, we've created the first ever UC Santa Cruz Parent Facebook Page.
Stevenson 
Events
For more details and other events please visit the Stevenson Buzz page.
A great source for happenings and important info is the Stevenson Facebook page
For information about Cultural Arts and Diversity, click here.
Stevenson 
Commencement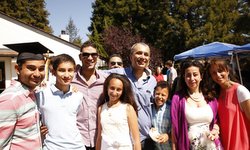 Stevenson's Commencement was held Sunday June 14th, 2015.
Please check our Facebook page for photos from this happy event.