Remembering Their Finest Hour: Danish Memories of the Miraculous Rescue of Jews During WWII
Introduction:
Stevenson student Samantha Vega conducted original, independent research on the rescue of Danish Jews in World War II during her Education Abroad Program (EAP) in Copenhagen, Denmark. Denmark is the only European country in which virtually all of its Jews were saved from deportation by German forces to extermination camps. Like many other European countries, Denmark was under German occupation during the war. Because its economy was almost entirely dependent on its exports to Germany and it sought to avoid a fate resembling that of the Polish, the government grudgingly accepted "peaceful" subjugation. Yet some ordinary citizens affiliated with the Danish resistance movement, at considerable risk, managed to evacuate nearly 8,000 Danish Jews to safety to nearby neutral Sweden. This was one of the largest and most successful acts of collective resistance during the Second World War. The result was that 99% of the Danish Jews survived the Holocaust.
Danes often regard this momentous rescue as "the finest hour in Danish history;" furthermore, many assert that the rescue is "emblematic of Danish values of democracy and inclusion." While there has been some research on the experiences of Danish Jews and some analyses of the Danish government's role (as well as citizens' roles) in their rescue, there has not yet been research on Danish perceptions of this unusual historical happening or how their perceptions have contributed to Danish nationalism and Danish identity. Preliminary research also indicates that few Danes are aware of controversies surrounding recent historical documentation of Danish expulsion of Jewish refugees and the use of Danish firms of Jewish slave labor. Recent scholars have accused the Danish government and scholars of suppressing historical evidence critical of Danish "cooperation" during the war until the 1990s and leveled charges that Danish "collaboration" with the Nazis can now be corroborated by recently opened archives. And thus, in her research, Ms. Vega primarily investigated how Danish collective memory compares to written historical documentation of the rescue of Danish Jews.
Interviews:
15-year-old Kevin Han-Nguyen, a Danish student of Chinese descent said he "learn[ed] about the rescue of Danish Jews in primary school. Jews escaped on a boat to Sweden. I am a second generation Chinese person, but I feel like it was very kind of the Danish people to help the Jews. I think the Danish accepted Jews more than other societies around the world. They saw them as people. And I think if they are Danes on their papers... Denmark will take care of them if they need it."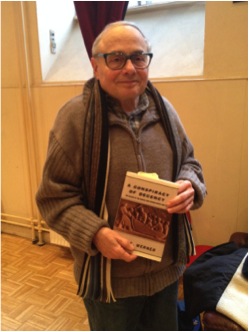 77-year-old Dan Edelstein, a Danish Jew born in Copenhagen, said, "We managed to escape. They said, 'don't be at home, go away from your address,' and we went to a Danish, non-Jewish woman. My father was a physician and in his high school, he had a good friend, and by his mother we were hidden... before we could arrange our transfer to Sweden to hide away. It was unbelievable. She was so nice. I was a little child at the time; I was about 6 years old. And her flat was near the harbor, and there were many ships and coals and cranes, and I was very interested to look outside the window. But they were afraid because she was a widow—she was an elder woman—and suddenly they might see a Jewish-looking boy looking out of the window someday. But you didn't know who was good and who was bad. So she said 'you should not look out the window all the time.' But I couldn't stop; I did it all the time. So she went down and bought a lot of plants so I could peek out the window. We were there about a week or a week and a half. Every time the bell rang on her door, we would have to hide away in a little room by the stairs because we didn't know who would ring. When we left to Sweden, it was a big rowboat with a motor, but it was a fisher boat. We had to lie flat down so you could not be seen. There were only two fishermen. They had a tranquilizer to make children calmer. We had to row out and when we were in Swedish waters, we turned on the motor and came to Sweden. The reception in Sweden was marvelous. One big soldier picked me up out of the boat because it was low and the tears ran down his face."
Historian Critique:
Bo Lidegaard, historian, lead editor of the Politiken newspaper, and author of The Countrymen, argues that there was something unusual about Danish people that allowed for the miraculous rescue of Jews despite the so-called skeletons in the closet. Lidegaard attributed the German's failure to the unanimous refusal of "all institutions of Danish society...to go along" with the Nazi's agenda. But Torben Jorgensen, historian of Holocaust and Genocide and Professor at the Danish Institute for Study Abroad, argues that Denmark's role in World War II, namely the agricultural and economic support it provided Germany, contributed much more to the Jewish peoples' demise than acknowledged in current literature. Other historians, like Sofie Lene Bak, author of Nothing to Speak Of and Professor at the University of Copenhagen chose to report on acts by individual Danes who hid Jewish children in their homes while their parents escaped to Sweden; Lene Bak also rejects the critique that the rescue of Danish Jews was anything short of extraordinary since Danish Jews report that their experiences, in comparison to Jews across Europe, is "nothing to speak of".