Frequently Asked Questions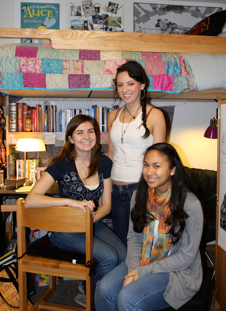 When will I receive my housing assignment?
Your housing assignment packets will be mailed by mid-summer. This will include information regarding your room assignment, roommates and move-in instructions.
Will I have to move out between quarters?
You may not stay in your room during the winter break period. You may stay in your room during the Thanksgiving and spring break periods asthey are covered by the housing contract. Please note that dining service is not available for either break period. Please see the Terms and Conditionsfor more information about quarter breaks at housing.ucsc.edu/terms.
Do I have telephone, Internet and cable services in my room?
Telephone and internet access services are provided for students living on campus.  The ability to make local and toll-free calls is provided in all on-campus residential rooms as part of your room rate. One telephone line and one voicemail box will be assigned to each double or single room. Rooms with three or more people will have two lines and two voicemail boxes.  Setting up voicemail is important since this is how students are notified in case of a campuswide emergency. You are expected to activate the voicemail account associated with your phone after you move in. How-to Instructions will be provided in the materials you receive on move-in day. You will need a calling card to make long distance calls from your room. Calling cards are available at many retail locations, including the Bay Tree Bookstore on campus. Telephone numbers will be pre-assigned to the room, not to an individual student, for the duration of the academic year.  If you move to another room, you will use the number assigned to your new room.  Bring your own touchtone telephone. Students in a double room need only one telephone to share, while students in a triple room will need a total of two telephones. When you get your room assignment, you and your roommate(s) may want to talk about who will bring the phone. For more information, visit ITS Telecommunications online at its.ucsc.edu/ services/telephone or call (831) 459-3111.
Internet Access and Computing Support
The ResNet program, which stands for RESidential NETwork, is a joint effort between Auxillary Services and Information Technology Services (ITS).  Using the ethernetport in your room provides a direct connection to the campus network and the Internet. There are ethernet ports in all bedrooms.  Most computers come ethernet-ready and no special fees or charges apply. If you need assistance you can call the ResNet Help Desk at (831) 459-4638.  All you need to take advantage of your Internet port is an ethernet capable (or upgradable) computer with the appropriate configuration.  For information about computer standards, specifications, or other questions, visit ResNet online at resnet.ucsc.edu. You can also e-mail questions to resnet@ucsc.edu. CruzNet is the wireless network technology at UC Santa Cruz and allows you to connect to the Internet from 400 wireless access points across campus.  This service may or may not be available inside your bedroom, but is generally available in all study lounges, cafes, and libraries.
Cell Phone Service
The UC Santa Cruz campus is located on a large hill overlooking Santa Cruz and the Monterey Bay, and the campus has many tall redwood trees and buildings that are situated within the trees.  Service at UC Santa Cruz may be sporadic. Please consult with cell phone service providers before purchasing a cell phone to bring to campus. It is your responsibility to update your student portal (my.ucsc.edu), if your cell phone will be your primary contact phone.
Cable Network and Radio Station
All college residences are connected to basic cable via telecommunications jacks in the rooms.  Residents can connect to on-campus student programming or dozens of local and national broadcast channels. Established in 1973, KZSC Santa Cruz 88.1 FM is a listener-supported, commercial-free, educational radio station located at the University of California, Santa Cruz. KZSC broadcasts 10,000 watts to the Monterey Bay Area 18-24 hours a day, 365 days a year. Tune in and you'll find everything under the sun: public affairs, comedy, news, surf, jazz, rock, punk, reggae and funk.
How do I get my mail and what will my new address be?
You will be able to receive mail and packages at your college. The College Office is responsible for assigning a mailbox to each student. Issues with your mailbox should be directed to the College Office. When you arrive on campus, you will receive your college mailbox number. Your address will be:
Your Complete Name 
Stevenson College 
101 McLaughlin Dr. #_____ 
Santa Cruz, CA 95064-1013
It is not possible to assign a mailbox prior to arrival, and new box numbers may be assigned.  The college does not have space to store packages, so plan to have your packages arrive after you do.
Are laundry facilities available?
Yes, facilities in the college are equipped with card operated washers and dryers. Machines for loading money on to your card are located throughout the college.
Can I decorate my room?
If you wish to hang items on the wall to decorate you room, you can do so. Please use push pins or picture hangers. Using nails or screws is not permitted. Items may not be affixed to the ceiling.  Students will be billed for any accidental or intentional property damage done to college oruniversity property.
Can I cook in my room?
For fire safety reasons, hot plates, electric or gas grills, toaster ovens or other cooking appliances are not allowed. Microwaves are permitted in the residence hall bedrooms.
Can I have guests?
The housing contract allows a student to have a visitor stay in her/his room, with restrictions.  Please talk to your roommate(s) about guests.Students may have a guest(s) for up to three (3) consecutive days and up to fifteen (15) days during one academic year. Residents are responsible for the actions of their guests at all times. See the Terms and Conditions of residence for specific policy details.
Should I bring my bike? Where can I store it?
Yes, if you like to ride on hills. Be sure to bring a high quality bike lock so that you can secure it at the bike racks located on campus. The college assumes no responsibility for damage, theft or loss.  When you arrive to campus you should contact UCSC police to register your bike.
Can I bring my skateboard or in-line skates?
The use of skateboards, rollerskates or in-line skates anywhere on campus is prohibited. This policy is enforced by the UC Santa Cruz Police Department and citations are issued.
Can I bring my car to campus?
Parking regulations are strictly enforced, and all eligible students who bring a car to campus must purchase a permit in advance. First-year students and sophomores who live in university housing (including The Village and University Town Center) are not eligible for a parking permit. Eligible students must apply for a parking permit through the Transportation and Parking Services (TAPS) web site at taps.ucsc.edu. Contact the TAPS Sales Office at (831) 459-4543, if you have questions about parking.
How do I get around campus without a car?
Even without a car, movement around our spacious campus is made easier by the network of foot and bicycle paths, and an extensive campus shuttle system. Both day and night shuttles provide wheelchair-accessible services and are free of charge. TAPS also operates a Disability Van Service, which provides transportation to those with mobility impairments. Additionally, the Santa Cruz Metropolitan Transit District (Metro) provides regular and convenient bus transportation to campus and to outlying areas around the Santa Cruz community. This service is funded by a mandatory student fee. You may ride any Metro bus without additional charge by showing your current UCSC identification card to the driver.
UC Santa Cruz is also among a growing list of college communities that support a new alternative to car ownership: Zipcar. Zipcar is a membership-based program that allows you to use a car when needed, while avoiding the costs and headaches of car ownership.  Zipcar provides selfservice access to safe, convenient, reliable cars  located on campus and in the community. Students 18 years of age and older are eligible to apply. For more information, visit zipcar.com/ucsc.
I'm flying in – how do I get from the airport to Santa Cruz?
UC Santa Cruz is located approximately 40 miles south of San Jose International Airport and about 70 miles south of San Francisco International and Oakland International Airports. All services listed below connect with university buses. A number of companies provide transportation from the airport.  This listing is a starting point and is neither an endorsement of these businesses nor a complete listing of services in the area: 
Abacus Transportation 
phone: (831) 469-3333 or (877) 291-3300
ABC Transportation
phone: (800) 734-4313
Expresso Limousine
phone: (831) 429-5466
Greyhound
phone: (800) 229-9424
Highway 17 Express
web: taps.ucsc.edu/airports.html
Are there banks on campus? What banking services are available in Santa Cruz?
Most major California banks have branches in Santa Cruz. Check with your local office for branch information.  Bay Federal Credit Union(831) 479-6000 Bank of America (831) 457-3560 Wells Fargo (831) 469-3525 have on-campus automatic teller machines at the Quarry Plaza.  The University Cashier's Office will cash checks up to $25.00 with a valid student ID for a 25¢ service charge.
What's the weather like?
Santa Cruz weather is variable, but mild overall.  In the fall, the weather usually remains quite  warm and comfortable through November, at which point we begin to experience the lower temperatures and rain that winter brings to Santa Cruz. This weather generally lasts through March, when it begins warming up again for springtime.
What recreation facilities are available?
A valid UC Santa Cruz student ID grants you access to a variety of athletic facilities at the East Field House, including an Olympic-sized pool, tennis and basketball courts, and the state-of-theart Wellness Center, fully equipped with a variety of aerobic, cardiovascular, and weightlifting equipment.
How can I be part of campus sustainability?
UCSC is dedicated to sustainability. We actively support recycling and waste reduction, and there is strong participation by students, faculty, and staff across campus. You can be part of the solution by bringing your own reusable plate, bowl, cup, and flatware when you move in. These can be used when you attend programs offered by your college.  If you are interested in finding out more about how you can get involved in UCSC's sustainability efforts, you can check out sustainability.ucsc.edu.
Can I get a tour, or learn more about the college?
Campus tours are offered all year long through the Admissions Office. Visit admissions.ucsc.edu/campustours to schedule a tour. College tours are available by appointment only. You can request a Stevenson College tour by calling (831) 459-4930.  Individual rooms may not be available for viewing.
What is the college system?
All undergraduate students, whether they live on campus or not, are affiliated with one of 10 residential colleges at UC Santa Cruz. Each college provides academic support, organizes student activities, and sponsors events that enhance the intellectual and social life of the campus in addition to housing students in small-scale residential communities. Every college community includes students with diverse backgrounds and academic goals. Your college affiliation is independent of your choice of major.